The AOI System PowerVision
from SEHO
AOI made easy! The SEHO PowerVision stands for fast, automated, optical inspection and is specially designed for THT processes.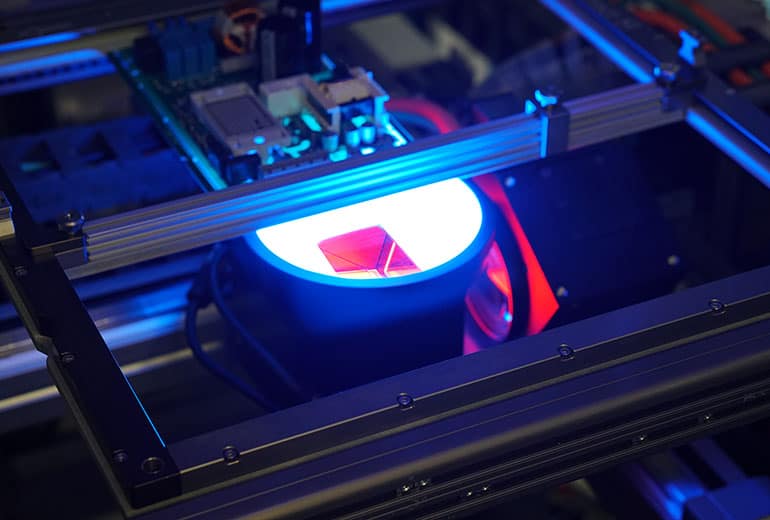 PowerVision focuses on two essential points in the production of THT assemblies: Continuous quality assurance and cost-efficient production processes.
It can be flexibly integrated into any fully automated THT production line or directly into many SEHO selective soldering systems, offering additional benefits.
Depending on the manufacturing requirements, the PowerVision can be configured as needed: For component placement inspection in front of a wave or a selective soldering machine, or for solder joint inspection after wave or selective soldering processes or as a combination of both inspection tasks, integrated into the same module to save space.
It reliably detects typical placement defects such as presence of components or polarity, and soldering defects like incomplete solder joints, solder bridges or solder balls, for instance. Additionally, the system is capable of reading and processing product IDs.
Highest quality of your products
No undetected soldering defects and continuous quality assurance
Orthogonal camera unit and multispectral illumination concept guarantee fast analysis and low false call rates
Simple and fast programming
Test plans can be created and optimized easily and conveniently on any PC using an offline teach program
Extensive and individually expandable component library, including component-specific test elements and an automatic inspection search function
Integrated statistical tools enable early optimization of the entire manufacturing process
User-friendly verify software with individually configurable reference image database
Database-driven software architecture = fully traceable processes
As an additional process integrated in many of SEHO's selective soldering systems
Outstanding reduction of the overall manufacturing costs and maximum ROI
Flexible configuration options allow adaptation to any manufacturing environment
Fast, automated, optical inspection and specially designed for THT processes. AOI made easy!
Selective soldering machines
Reflow soldering machines